Music Cluster Meeting, Veszprém
Veszprem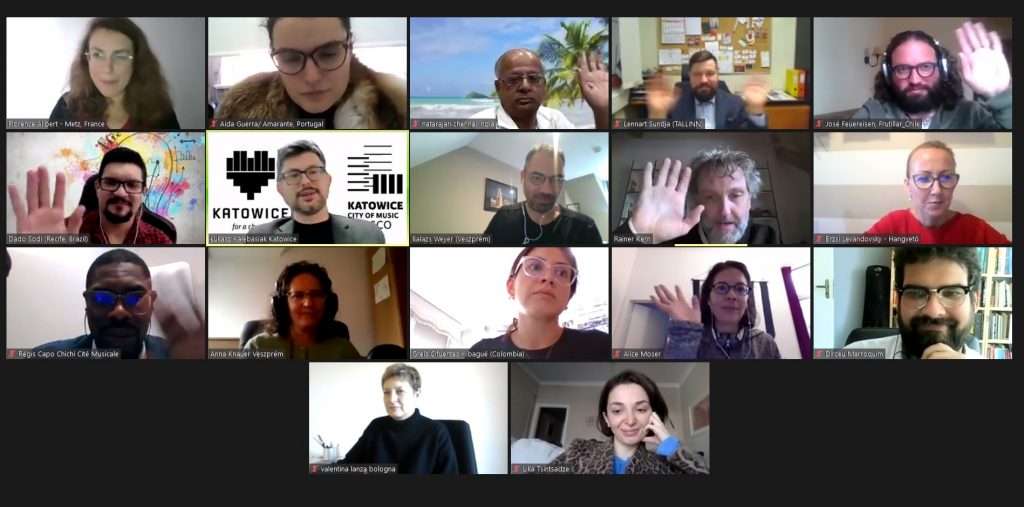 A Day Full of Music in Veszprém // UNESCO Music Cities Meeting Takes Places in Veszprém in 2022
Veszprém loves music – be it big stadium shows or intimate café concerts, liberating amateur music or street performances. This Western Hungarian city welcomes music in all its forms: Veszprém hosts an outstanding number of concerts and music events such as the internationally recognized Veszprém Street Music Festival, while also paying special attention to music and folk dance education and music related tourism.
For all these reasons Veszprém was thrilled to receive the Music City title as a member of the UNESCO Creative Cities Network. The city is the first in Hungary to receive this title, while Budapest has been a member of the network since 2015 as a Design City.
Music Connects Us
There are currently 295 members of the UNESCO Creative Cities Network among which 61 hold the Music City title. In early November 2021 UNESCO has announced the newest additions to the list: Belfast (UK), Kharkiv (Ukraine), Tallinn (Estonia), Huancayo (Peru), Ibagué (Columbia), Abu Dhabi (UAE), Batumi (Georgia), Port Louis (Mauritius), Recife (Brazil), Santiago de Cuba (Cuba), Xalapa (Mexico), and London (Canada) were all awarded the prestigious title.
City representatives come together each year for a cluster meeting to discuss plans and projects. Veszprém was happy to host the meeting this year – originally planned to happen in person, but due to travel restrictions and health considerations the event was rescheduled online.
Over 30 representatives attended the lively online meeting. The Mayor of Veszprém, Gyula Porga welcomed all representatives and congratulated the newest Music City titleholders. Mayor Porga also emphasized Veszprém's affection for and special attention to music in its rich cultural palette.
"The best way to exchange thoughts and ideas is still a real-life, in-person meeting – that is why we hope to welcome all of you in our city next year" – said Mayor Porga.
Plans were made for an in-person meetup hosted by Veszprém in 2022 which will likely take place during one of the major music events organized in the city so that delegates get to enjoy the best programmes this Music City has to offer. Originally the 2022 meeting host was going to be Norrköping (Sweden) who generously handed over the opportunity to Veszprém, mentioned Mayor Porga expressing his gratitude for the grand gesture.
Music Belongs to Everyone
Music is scientifically proven to make people happier no matter what skill level the players are on or what instruments they play. Singing under the shower makes a big difference, just like going to a classical music concert or jamming with friends. Veszprém set the goal to become the most musical city of Hungary with the highest number of residents playing some instrument or making music.
The communal experience of music and singing, and a democratized music education is the main focus of the ambitious Hangjáték ("Soundplay") project that started in June 2021 and is part of the Veszprém-Balaton European Capital of Culture 2023 year. The Hangjáték project is an outstanding example of the city's focus on its cultural strategy, with special attention on comprehensive music education for all ages and skill levels. The project builds on Veszprém's rich cultural heritage and strong background in music.