Cooperation between Hannover and Liverpool
Hannover, Liverpool
Britten's War Requiem was performed by Hannover's NDR Radiophilharmonie Orchestra and the Royal Liverpool Philharmonic Orchestra in both cities on 3rd November in Hannover's Kuppelsaal, Germany's largest concert hall, and on 10th November at Liverpool's Cathedral
This great bilateral project to commemorate the end of the war was an outstanding event inititated by the NDR Radiophilharmonie and its Chief Conductor Andrew Manze who also is the Royal Liverpool's Philharmonic Orchestra's Principal Guest Conductor.
Hanover and Great Britain have a special relationship which dates back over centuries. For over 120 years, the United Kingdom and the Electorate of Hanover were joined through the person of the monarchy and head of state. We celebrated the 300-year anniversary of this special German-British connection in 2014.  With Britten's War Requiem, this joint project looked back to the end of the First World War, on what is now its 100th anniversary. Known in Britain as the "Great War", this world war plays a less significant role in the German collective consciousness due to the horrors of the following years surrounding the Second World War. "Here in Hanover, we are thankful that the people of Britain have sought reconciliation between us two former enemies after the horrors of the Second World War" – Stefan Schostok, Mayor of the City of Hannover and Chief Executive said.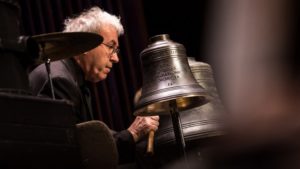 In 1947, after the end of the Second World War, emissaries came to Hanover as part of a "Goodwill Mission" and founded the partnership between Bristol and Hanover, one of the first British-German city twinnings, which is still very much alive today. Two world wars were not able to sever these ties and both countries have continued to develop a community of values and sent signals of reconciliation to the rest of the world. This is what what this project wants to show, remember together look into the future togeether. "While Brexit is set to burn political bridges, together we will send out a message of solidarity and togetherness, opposing separation and isolation. Culture brings us together, even in the midst of political differences" says Stefan Schostok. "Hanover and our twin city of Bristol, a UNESCO City of Film, as well as our UNESCO City of Music Sister City of Liverpool will subvert the separating currents where we can and step up our cooperation in the face of Brexit."
Liverpool and Hanover have already achieved a great deal together musically. There have been joint musical projects with performances by Hanoverian musicians in Liverpool and Hanover, including regular visits on both sides. The War Requiem project arose from one of these visits, masterminded by Hannover's UNESCO City of Music ambassador Andrew Manze.
Not just in terms of a major artistic project, but also as a political statement for tolerance as well as compassion, this collaboration between musicians from Hanover and Liverpool in the War Requiemis a clear example of UNESCO's Sustainable Development Goals being put into action and the promotion of international understanding and cultural exchange with our British friends, which go beyond decisions such as Brexit and continue to develop intensively.
"Isn't it hard to believe we were at war with these people," says NDR Radiophilharmonie's principal conductor Andrew Manze to Laura Davis from the Liverpool Echo. "When my parents were young, the people sitting together at a music stand, their families were at war." Musicians from both orchestras have expressed many times how glad and proud they are to have been part of this siginficant project.
It not only involved the two orchestras but a large number of choirs in Hannover and Liverpool, 400 musicians altogether from both cities.
"It wouldn't have worked if we had performed in just one city," says Manze to Laura Davis of Liverpool Echo. "I think they [the audience] got what we were trying to do – musicians playing music together. You can't make an EU treaty that gets that to happen, it's a magical thing that has to happen between people."
Read more from the Liverpool Echo (UK)